OEMs demand capable suppliers with cost-effective solutions to be competitive in the marketplace. Because there are many potential suppliers to choose from, at Allegiant Manufacturing we have taken a different approach. We offer multiple-metal-working capabilities, from multiple locations, practicing Lean manufacturing principles. We listen to our customers and continue to look for opportunities to expand and add value and partner in our customers' success.
All Allegiant Manufacturing plants offer metal stamping for medium to high-volume production requirements.  We have mechanical press capacity of 600 tons with a 144" x 60" bolster.  Hydraulic press capacity is 300 tons. Stamping processes include progressive, transfer, stage, and draw dies using coil- and hand-fed lines. Materials stamped include HRPO, cold rolled, stainless steels, electrical steels, draw quality steels, aluminum, Inconel and more. Allegiant is equipped to handle stamped parts varying in sizes weighing from a few ounces to many pounds per part.
We offer complete metal fabrication services. Operations include fiber lasers, combo laser/brake-press equipment combining two operations into one, brake-press forming, welding, powder coat finishing, value-added assemblies, and packaging. Welding services include projection and spot welding, MIG and TIG, weld cells equipped with dual-robotic welders, and manual welding operations. Tube fabrication services include bending, punching, cutting, forming, and welding.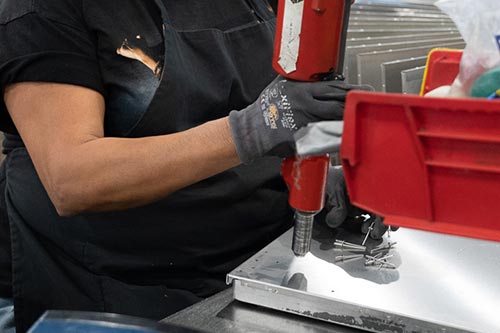 We are equipped to take parts from start to finish offering value-added assembly services. Customers rely on Allegiant to sub-assemble – and assemble complete – parts we produce by fabrication, stamping, or a combination of the two. Large BOM are efficiently managed for in-house produced and purchased components by ERP software integrated with all Allegiant locations.
We finish what we start with in-house powder coat finishing operations. Our 12' x 12' wash booths include heated power wash stations utilizing a phosphate injection system including customer-specified chemicals. The dry-off and cure ovens are also pass-through systems with timesaving doors on both ends. A powder coat finish is applied to customer specifications in a 12' x 12' powder coat booth station.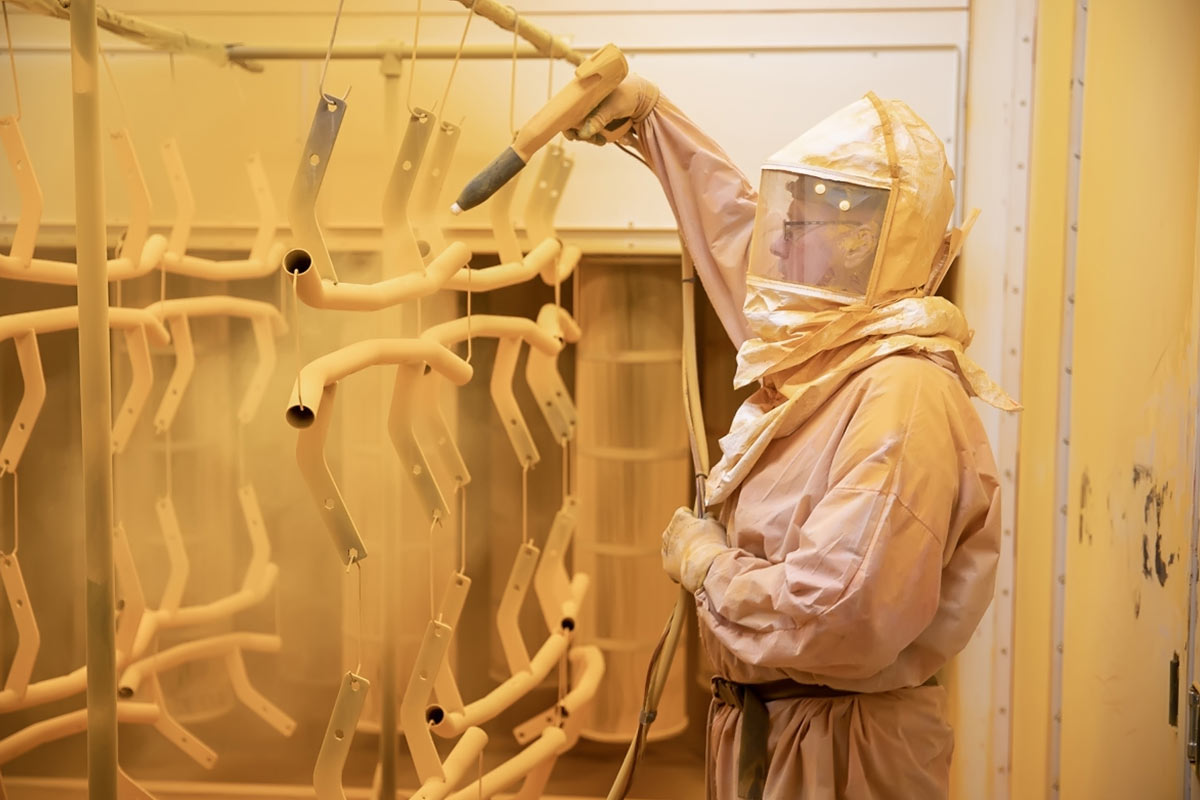 Since 1951, we have designed and built quality stamping dies for customers and our in-house stamping operation.  We build progressive, stage, transfer, draw, and single-station combination dies. Combination dies form finished parts from blanks including blanking, drawing, embossing, extruding, and piercing operations in a single station. Our in-house professional tool makers, with years of tool making experience, provide immediate production support at Allegiant should an unexpected stamping interruption occur.